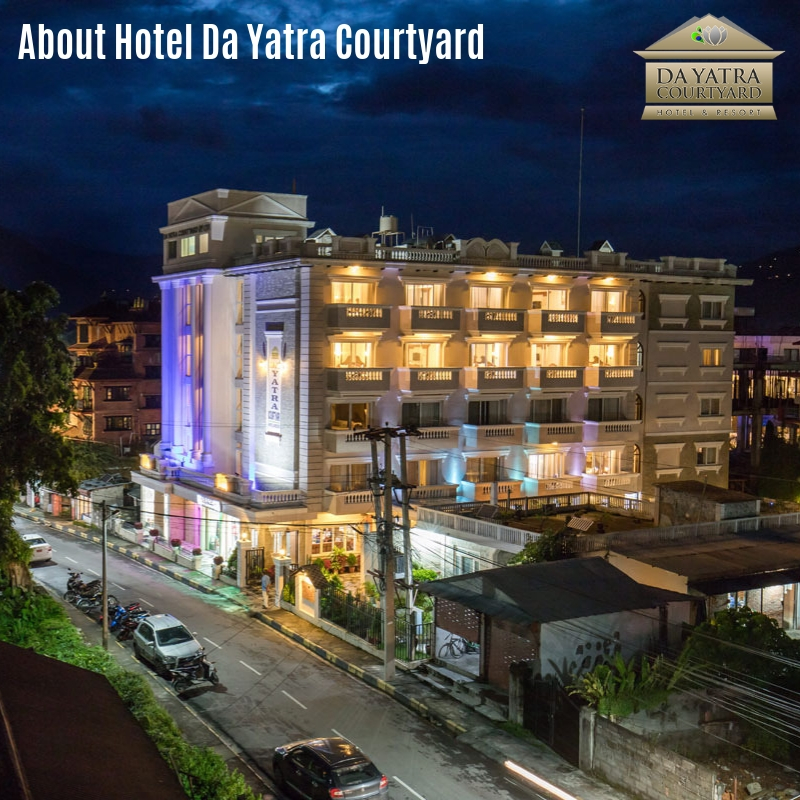 About Hotel Da Yatra Courtyard
About Hotel Da Yatra Courtyard
Da Yatra Courtyard, a place where synergy flows, people and nature harmonize and personalities mingle. From the moment of arrival, feel relaxed in style in Hotel Da Yatra Courtyard. This newly opened 4 star standard luxury hotel boasts one of the city's most unique lobbies, blending classic luxury with stylish modernism. Hotel Da Yatra is located in majestic natural settings overlooking charming & beautiful Sarangkot Hills, aquamarine Fewa Lake and panoramic Himalayas. It will be your perfect choice for all seasons and reasons to experience this city and the hotel. A luxury ambience, where the mood is welcoming, calming and suffused with rich colors and decorated with fine classical touch fusion with western Nepalese stone works is what you find at Hotel Da Yatra Courtyard at Lakeside making it a perfect base for both business and leisure traveler. Our hotel rooms are sound-proof and non-smoking. We have easy access for wheelchair to facilitate disabled traveler. Reflecting the paradise setting of Pokhara, Hotel Da Yatra Courtyard is tailored, welcoming and eclectic. Around the clock, guests can count on responsive service to ensure their stay is comfortable, complete and always unforgettable. Our Fooday's restaurant is the perfect venue for cocktails after work, dinner before hopping to bars, business meetings, social gatherings and everyday celebration. We at Fooday's are committed to the use of organic food products and fresh seasonal products.