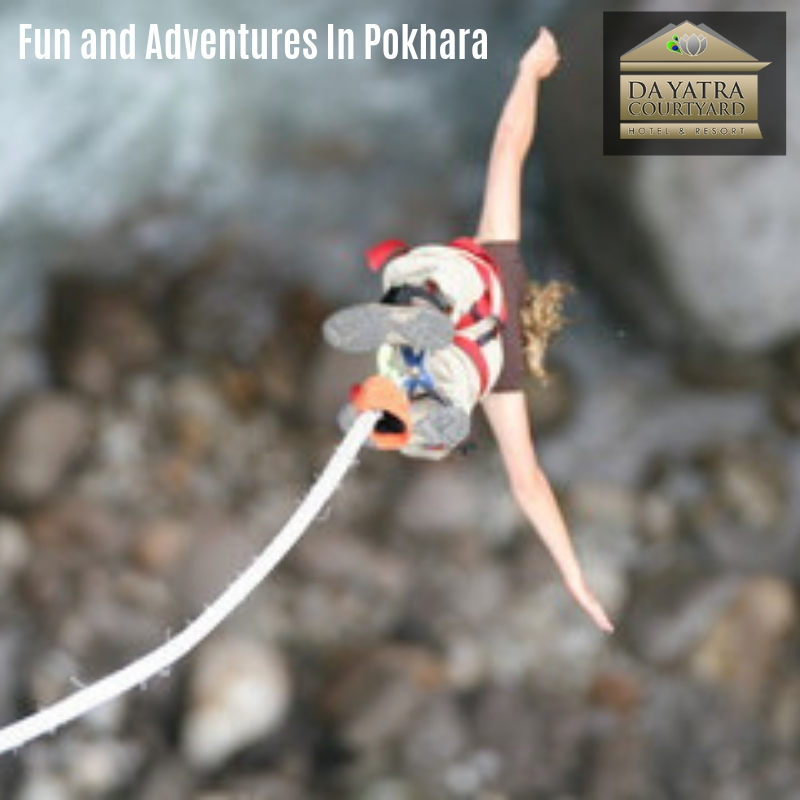 Fun & Adventures in Pokhara
Fun and Adventure in Pokhara
Bungee Jumping - Pokhara introduced Bungee Jumping in the mid-September 2014. This is the second Bungee Jumping point in the country. And is growing popular among the adventure lovers.
Paragliding- Pokhara is one of the best destinations in the world for paragliding. Enjoy the birds eye view of this wonderful city as you try out Paragliding in Pokhara. Enjoy the magnificent flight over the beautiful green hills and lakes. Plus, enjoy the incredible view of Annapurna ranges.
Zip flyer - Zip flyer is one of the attractive adventure activities offered by the Adventurer's Mecca, Pokhara. The Zip-flyer starts from the 1625 meters in Sarangkot and ends at 960 meters in Hemja plain.
Ultra-light flight - It is a superb experience for light-hearted adventurers. The Ultra-light Flight plane takes the flight over the beautiful hills. And gives the full spectrum of the magnificent Pokhara valley along with mountain peaks and lake
Mountain Biking - Mountain biking is a fun opportunity to explore in and around the beautiful city of Pokhara. Take a ride through the lush green hills across typical villages along the river banks. And ride around the temples as you explore the magnificent surroundings.
Hiking near Pokhara - Pokhara is a starting point of most of the famous trekking routes in Nepal. Further, Pokhara also offers plenty of beautiful hikes that you can enjoy within a day. You can go on short hikes around the surrounding villages like Dhampus, Sarangkot hill or Kahun Daada.